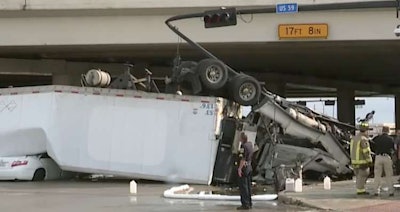 "It is amazing that we are not dealing with something far more serious," said Sugar Land, Texas Police Department Spokesman Doug Adolph after a tractor-trailer flipped off I-69 in the rain this morning and landed on a car on University Boulevard below.
The Houston Chronicle reports "an SUV was 'driving erratically' during heavy rainfall on Interstate 69, and struck the 18-wheeler, causing it to jackknife and hit another car before flipping over a guardrail."
Both the truck driver and the driver of the Toyota Camry on which it landed were not seriously injured, but both were taken to a hospital, according to the Chronicle. Neither was identified.
Sugar Land is located southwest of Houston.