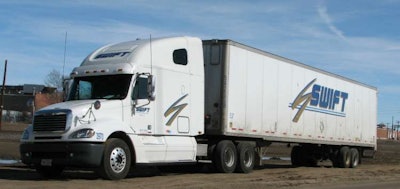 Starting later this month, Swift is going to become Swift-er.
Calling it a "huge change," the company announced that as of Nov. 27, its company trucks "will go from 60 mph on the pedal and 62 mph on cruise, to 63 on the pedal and 65 on cruise," according to a post on its Facebook page.
Not surprisingly, the Facebook post attracted plenty of comments; 248 to be precise. And, the post was shared 488 times.
The change comes just days after Swift made another bit of what it called "GREAT NEWS!" Also in a Facebook post on Nov. 8, Swift said:
We are eager to announce that Swift has now adopted a new dog policy for our drivers!
Main Requirements:
• Under 40 pounds
• Non-aggressive
• Proof of proper vaccinations
• $300 non-refundable fee
Current drivers: please inquire with your driver leader about this policy. If you are not a current driver, and would like to discuss our opportunities, please message us or contact a Swift recruiter …
Truckers News reached out to Swift to find out why they made these changes but has not heard back.