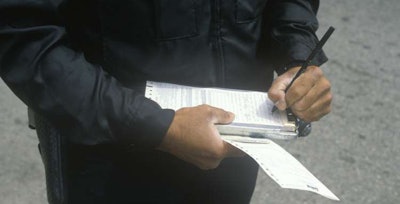 Starting tomorrow — Sunday, Oct. 15 — police agencies across North America are going to be even more vigilant than usual about enforcing the rules of the road.
The Commercial Vehicle Safety Alliance's annual Operation Safe Driver Week is Sunday through Saturday, Oct. 21. During that time police say they want to "help improve the behavior of all drivers operating in an unsafe manner – either in or around" a commercial motor vehicle.
As safe a driver as you are, it never hurts to have a reminder of how how to avoid being among the truckers ticketed during the enforcement blitz. Last year, 11,182 commercial drivers got warnings (6,078) or citations (5,104), according to the CVSA.
Based on what the CVSA effort is focused on, doing these things could improve your chances of not becoming one of those statistics for this year:
Ease up on the accelerator. Almost 20 percent of the citations written last year were for speeding. (Still, that compares to almost 40 percent for passenger vehicles.) We know, every trip is a game of "Beat The Clock," but, you know the radar guns will be out in force.
Put down the phone. Yes, yes, yes. You're already required to be hands free on the phone, but we all know plenty of drivers who are still texting or taking photos to post on Facebook. States are cracking down on phone use and other forms of distracted driving. While you have to stay in touch with home or with dispatch, just do it safely; when you're stopped if possible.
Buckle up. By now, this ought to be a no-brainer, but still we read accident stories of drivers being killed or seriously injured because they weren't buckled in. And, if you have a passenger, it's up to you to be sure they strap in as well.
Remember the basics. Aside from traveling at an appropriate speed, be aware that this week cops are going to be especially vigilant about truckers who are tailgating, making improper lane changes, not obeying traffic signals, and other basics of highway safety. And, even before you get rolling, do a thorough pre-trip and be sure your truck is operating at its best and that your load is properly secured.
Pay attention. Lots of us "zone out" on the job. Because we daydream, get bored, or almost nod off because we stayed up too late the night before, our attention slips. But, when you do it even for a brief moment, 80,000 lbs. of truck and cargo may drift off the interstate.
The top five warnings and citations issued to commercial motor vehicle drivers (as a percentage of total CMV warnings and citations) during last year's enforcement week were:
State and Local Moving Violations – 56.7 percent
Speeding – 19.6 percent
Failure to Obey Traffic Control Device – 7.6 percent
Failing to Use Seatbelt – 7.1 percent
Using a Handheld Phone – 2.4 percent
In addition:
0.5 percent of CMV drivers were cited for inattentive or careless driving
eight citations related to a CMV driver's failure to stop at a railroad crossing were issued
seven CMV drivers received citations for operating their vehicle while ill or fatigued
five warnings and nine citations were issued to CMV drivers for reckless driving