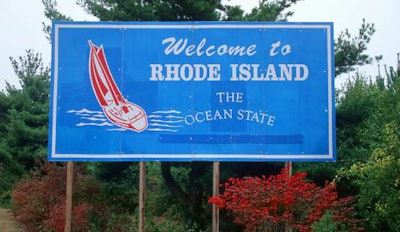 Rhode Island's planned trucks-only tolling effort has drawn more criticism from national and state rucking organizations.
The American Trucking Associations and the Rhode Island Trucking Association Wednesday called on the Federal Highway Administration to reject the Rhode Island Department of Transportation's assessment of the impact of the state's proposed RhodeWorks trucks-only tolling plan. The two organizations question many of the assumptions included in the report, including how much money it would raise, and ATA vows to "exhaust every legislative, regulatory and legal avenue" in its attempt to block trucks-only tolls.
"The Rhode Island Trucking Association and the American Trucking Associations have identified dozens of errors in RIDOT's Environmental Assessment (EA), which was published last month," said RITA President and CEO Chris Maxwell in the statement the two organizations issued. "We are calling upon the Federal Highway Administration to reject the EA and instruct RIDOT to publish a corrected report or to immediately order RIDOT to conduct an Environmental Impact that addresses the issues we pointed out in our analysis."
Among the items in the report ATA and RITA take issue with include:
RIDOT ignored constitutional issues surrounding state border tolls: While RIDOT has indicated its intent to toll trucks at 14 locations, it is asking for FHWA permission to first toll at only two locations on I-95 near the Connecticut border, thereby avoiding a full reckoning of the effects of diversion once all toll gantries are activated. This flawed methodology clearly ignores the cumulative impacts of full tolling and it raises constitutional issues surrounding border tolls.
RIDOT's Berger Report underestimates traffic diversion: The EA only looks at a single alternative route (Route 3) and ignores other feasible alternatives. This means that the full extent and impact of diversion is not fully explored. The Berger Report assumed that RIDOT would impose access restrictions on tractor-semitrailers to prevent through trucks from avoiding tolls by using alternative routes. The report assumed that enforcement of these restrictions would reduce traffic diversion by 50 percent. However, on Aug. 17, the Rhode Island State Traffic Commission rejected RIDOT's request to impose these restrictions. Since the EA based its estimates of impacts on the Berger Report's underestimated diversion figures, all of the impact assessments that are adjustable according to the number of diverted vehicles are inherently erroneous.
RIDOT falsely claimed most of the toll costs would be borne by out-of-state businesses: When it was pushing the RhodeWorks toll proposal to the public and General Assembly, RIDOT claimed that most of the costs would be paid for by out-of-state businesses. However, according to the state's own figures, 94 percent of toll payments will be made by trucks traveling entirely within the state or picking up or delivering to a location in Rhode Island and just 6 percent of payments will be made by trucks crossing the state without stopping.
RIDOT ignored the potential impacts of litigation: The EA ignores the probability of a legal challenge to the daily cap rates on tolls and imposition of tolls only on tractor-semitrailers, which both favor intrastate over interstate travelers, again raising constitutional issues. The analysis should have looked at a scenario under which caps are lifted and all vehicles are tolled. It should also include a legal analysis looking at these issues.
RIDOT overstates revenue projections by nearly $20 million: Furthermore, as a result of the adjustment identified in item #3, the projected revenue is lower than RIDOT claims is needed to meet the purpose and need of the proposal. According to a sensitivity analysis that excluded the enforcement actions, gross revenue would be reduced by approximately $10 million per year under this scenario. When toll capital and administrative costs are factored in, ATA estimates that net annual average revenue over the first 10 years of the program is $27.48 million, not the $46 million RIDOT claims.
RIDOT published the Environment Assessment on Nov. 1 and FHWA can now either make a " Finding of No Significant Impact" ruling, giving RIDOT the green light to move forward with tolling, or order further study through an Environmental Impact Statement.
"This extraordionary truck-tolling program will hit Rhode Island trucking companies significantly harder than out-of-state carriers, contrary to RIDOT's claims when the RhodeWorks bill was approved by the legislature," said ATA President and CEO Chris Spear. "Given the national precedent that this initiative would establish, ATA will exhaust every legislative, regulatory and legal avenue to defeat the implementation of the tolling portion of RhodeWorks and prevent this cancerous proposal from spreading around the country. This effort is still in the early stages and we intend to fight this battle for as long as it takes."