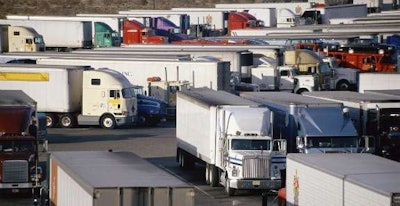 The American Transportation Research Institute is asking truck drivers to participate in several research projects while at the Mid-America Trucking Show at the Kentucky Expo Center in Louisville this week.
ATRI encourages drivers to visit with researchers at booth 40577 in the North Wing Lobby Thursday through Saturday to provide comments on three studies, which include:
Driver Safety Assessment Tool
This research examines the relationship between personality characteristics and safety outcomes, according to ATRI. Participating drivers will complete a test on personality, memory and attention. Driver health and background information will also be gathered. Most of this study is computer-based, with ATRI research staff providing support. This assessment will take about two hours to complete and participating drivers will receive a $100 Visa gift card.
Truck Parking
ATRI will be surveying drivers on truck parking issues on behalf of the Mid-America Association of State Transportation Officials and the U.S. DOT's Truck Parking Coalition.
New Entrant Drivers
ATRI will survey new drivers — those with less than one year commercial driving experience — on what attracted them to trucking as a career.
All survey participants will receive a free gift at the ATRI booth.