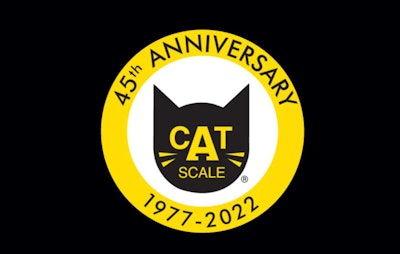 CAT Scale is celebrating 45 years of business in 2022.
The Walcott, Iowa-based company is thanking its customers by giving away a new Ford Raptor pickup truck and thousands of other prizes as part of its Weigh to Win Sweepstakes. The sweepstakes kicks off Feb. 1 at CAT Scale locations.
Drivers also have a chance to win over $100,000 in instant prizes, including a YETI outdoor prize pack, CAT Scale hats, Series 20 Super Trucks collector card sets, die-cast model trucks, insulated tumblers, water bottles, Oakley backpacks, and more.
Each time drivers weigh, they will have a chance to win prizes in the online instant win game and enter for a chance to win the Ford Raptor. The grand prize winner will be chosen from all game entries. Plus, the grand prize winner and his or her guest will receive a trip for two to the 2022 Walcott Truckers Jamboree to drive home the new Ford Raptor.
The contest is open to Class 8 drivers who are at least 18 years of age and U.S. residents. Weigh to Win will run from Feb. 1 to June 1. Drivers will be able to enter the ticket number and truck number from their scale ticket to play the instant win game, as well as find complete details and official rules, online at www.weightowin.com beginning Feb. 1.
XPO expands LTL operations with 2 new terminals
XPO Logistics is opening two new mid-America less-than-truckload terminals.
A cross-dock terminal in Sheboygan, Wisconsin, will bring online 26 new doors while another 24 new doors are planned at a cross-dock terminal in Texarkana, Arkansas.
The company this quarter also plans to open new fleet maintenance shops at terminals in Ohio, Florida, New York and Nevada and invest in equipment upgrades to the company's LTL trailer manufacturing facility in Searcy, Arkansas, with the expectation of nearly doubling the year-over-year number of units produced this year.
"The strategic actions we initiated in the fourth quarter [2021] began showing results in a matter of weeks, giving us good traction for the execution of our plan in 2022," said Mario Harik, acting president, less-than-truckload, and chief information officer of XPO Logistics.
This marks the latest progress in XPO's previously announced plan to drive growth and efficiencies in its North American LTL network. The company in October opened a 264-door terminal in Chicago Heights, Illinois, and initiated actions to enhance freight flows in the face of increasing demand.
Schneider plans to switch western rail partners in 2023
Schneider  announced today it is expanding intermodal service by moving its primary western United States rail partnership to Union Pacific beginning in 2023.
The company has one of the largest intermodal fleets in North America with over 25,000 containers and plans to double the company's intermodal size by 2030. The company celebrated 30 years of intermodal service in 2021.
Schneider will have the largest company driver dray fleet of any intermodal carrier hauling freight on Union Pacific and the first carrier with both company-owned containers and chassis. With the combination of Schneider's eastern partnership with CSX, the transition will create more direct transcontinental connections for the company's customers, according to a statement from Schneider.
Schneider will continue to move freight with its current western rail provider for the remainder of 2022 and transition to full service on the Union Pacific rail network on January 1, 2023.
ICYMI
Love on the Highway: How folks make being a couple & being a team work
Schneider makes 'difficult' decision to move operations out of Canada
Pets are good mentally and physically for drivers' well-being
Poll finds how professional drivers feel about the new year
This you have to see