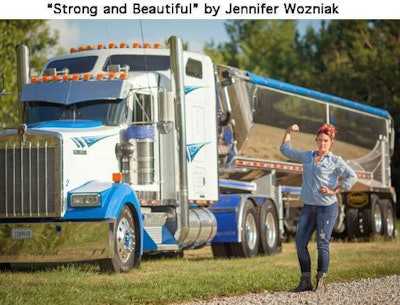 Women In Trucking Association announced the winners of its second "I HEART Trucking" photo contest at their reception at the Great American Trucking Show.
This year's theme was "Trucks are for GIRLS!" Photos had to include a truck and a female of any age. Seventy-one photos were submitted and 3,135 online votes for People's Choice were cast.
"We received awesome photos this year and many photo captions told a story," said Char Pingel, organizer of the contest and WIT director of member services.
People's Choice
Winner – "Future Trucking in Training" by Brandy Noss
First runner up – "Trucks are for GIRLS" by Susie De Ridder (Lyons)
Second runner up – "Country Girls can Survive" by Shelia Shaw
Judges' Choice
Winner – "Strong and Beautiful" by Jennifer Wozniak
First runner up – "I Love Peterbilts because Mommy makes them" by Alison Cochran
Second runner up – "Macknificent" by Heather Jones
Winners will receive a plaque. Sponsors of the photo contest and reception were Ryder System, Averitt Express, Republic Services, Dart Transit Company, Werner Enterprises and TruckerSam.