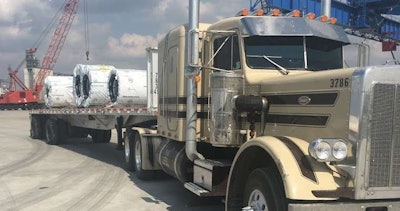 Steel coils are often considered some of the most dangerous freight to work with. While owner-operator Shelly Erman agrees with that outlook, hauling the massive coils is also just a typical day on the job for her.
Erman, from Claremore, Oklahoma, drives team with her husband, Joseph Erman, for PI&I Motor Express. They drive a newly purchased 2013 Peterbilt 386 that they plan to customize.
Steel coils are the primary freight Erman works with and it's every bit as dangerous as people make it out to be, she says.
"We cannot stop like everybody else. We cannot stop like any other trucker can either," Erman said.
The husband and wife team experiences several near misses each day. Last year they were driving their International ProStar, which they'd only had for a week, when a 2016 Mustang she said was full of 17-year-old kids made a left turn in front of them and caused them to crash. The truck and the Mustang were totaled, but everyone involved was alright.
When you're hauling steel coils you can't just hit the breaks, Erman said.
"We load ours shotgun which they're going to come straight in the cab, so there's no way we can do that. It's just daily we have five or six different close calls," Erman said.
Despite the risks involved, Erman still loves hauling steel because of the challenge.
"Every load is different. Nothing is ever the same. It all rides different. If you want excitement, haul some coils 'cause they'll darn sure do it," Erman said.
Not everyone is cut out for this kind of work. In order to successfully work with that kind of freight you have to maintain a learner's mentality.
"It's not for everybody and it's not for somebody who thinks they know everything either, because they don't," Erman said.
Even if you're savvy with tying down your straps and feel confident you shouldn't let ego get in the way of safety, she says.
"They need to be aware it doesn't matter how much you crank down on the chains. The chains can break. The trailers can break," Erman said.
She and her husband have been driving together for 30 years and they still learn new things all the time. Erman's advice for rookie drivers is to work with freight that will challenge them and teach them about the industry.
"There are some trucking jobs that are easy and have 'no touch' freight or what have you. You're never really going to learn very much if you don't touch that freight. You've got to touch that freight in some way somehow to get experience," Erman said. "It takes more than five years to get experience. It takes a lifetime. We're still learning. You never quit learning."
The Erman's credit their success in the industry to the people they work with, including fellow drivers Brad McCall, Bobby Sweeney and Lloyd Anderson, as well as their dispatcher Jennifer Franklin.
"Without these people our job would not be as great as it is," Erman said.
In her down time Erman enjoys fixing their truck with her husband. They recently sold a 1986 Peterbilt 359, with an extended hood, which they'd named "Tootsie Roll." They invested upwards of $40,000 in the truck before they sold it.
"We sold it because we couldn't go any further with it. We couldn't upgrade it anymore," Erman said.
They plan to outfit their new Peterbilt with new LED lights, bigger stacks, light bars and a new air-ride passenger seat, among other upgrades.
"Usually when we turn something around, whether it be a personal vehicle or a truck, everybody that knows us knows whose it is when they see it. Our trucks just scream Joe and Shelly," Erman said.