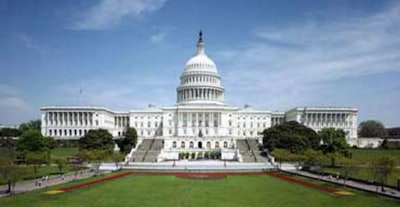 There has been activity in Washington, D.C. that could, if it bears fruit, deliver profound changes for truck drivers.
A bill was filed earlier in the month in U.S. House of Representatives that would, if passed, permanently exempt the smallest trucking companies — those with 10 trucks or fewer — from compliance with the electronic logging device mandate.
Also, 30 U.S. senators — 27 Republicans and three Democrats — signed a letter to the Federal Motor Carrier Safety Administration asking for possible improvements in hours of service regulations.
ELD Exemption Proposed
Sponsored by a bipartisan duo, Reps. Collin Peterson (D-Minnesota) and Greg Gianforte (R-Montana), the Small Carrier Electronic Logging Device Exemption Act is the first attempt in Congress at specifically exempting small carriers and single-truck owner-operators from the ELD mandate.
If enacted, the act would allow carriers with 10 or fewer trucks to use paper logs to record duty status, instead of electronic logging devices. To become law, the bill must be passed by the House and the Senate and be signed by President Trump.
Peterson and Gianforte also introduced a bill to exempt those hauling agricultural commodities from the ELD mandate. Livestock and ag haulers received compliance extensions beyond the Dec. 18 deadline, though their compliance dates are fast approaching. Livestock haulers must adopt an ELD by the end of September, while ag haulers have only until June 19 to switch from paper logs to an ELD.
Call for Hours of Service Reexamination
The four-paragraph letter by the 30 senators was dated May 17 and asked FMCSA Administrator Ray Martinez made no specific recommendations. Instead it asked the agency to "provide for a commonsense framework for drivers, rather than a one-size-fits-all model." It also said "it has become more apparent that HOS rules do not provide the appropriate level of flexibility for the safe operation of commercial motor vehicles."
It also said the senators hope FMCSA will be able to improve regulations and address issues within HOS regulations for all drivers, including long-haul drivers, short-haul drivers, agricultural and livestock haulers. We suggest FMCSA examine a wide range of options to address HOS issues and ensure safety, including, but not limited to, providing certain allowances for unique business or driver operations, elimination of unnecessary requirements, or improved utilization of non-driving time."
Read the full letter and see the 30 signatories at this link.
It's uncertain what the future holds for the proposed legislation and the request to revisit the hours of service regulations.