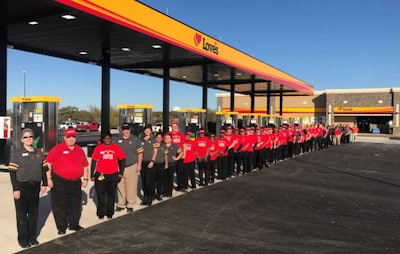 Two of the major truck stop chains recently opened three new locations, two by Pilot Flying J and one by Love's. Combined, they add 162 new truck parking spots.
Pilot Flying J is opening two new locations this month, one in Jal, New Mexico and the other in Jacksonville, Florida. The locations add a combined 70 new truck parking spaces.
The Pilot Travel Center at 410 E. Kansas Ave. in Jal, New Mexico will have:
PJ Fresh
43 truck parking spots
6 diesel lanes
5 showers
Laundry facilities
CAT scale
Western Union
The Pilot Express at 3515 Zoo Parkway in Jacksonville, Florida has:
PJ Fresh
Dunkin Donuts Express
27 truck parking spots
5 diesel lanes
CAT scale
Western Union
"We're thrilled to serve the communities of Jal and Jacksonville with the expansion of our network this month to deliver convenience, quality, great service, and added value to local residents and professional drivers traveling the nation's highways," said Ken Parent, president of Pilot Flying J. The Pilot locations offer many amenities, including:
The new facilities will bring Pilot Flying J's network of stores in New Mexico to 16 and in Florida to 31.
Latest Love's opens in Texas
Love's opened its newest location today in Sulphur Springs, Texas. The store, located at 1201 S. Hillcrest off I-30 and Texas Highway 19 on Exit 122, includes 92 truck parking spaces.
The more than 11,000-square-foot facility is open 24/7 and also has:
Eight diesel bays
Speedco
Carl's Jr. restaurant
Seven showers
Laundry facilities
Mobile to Go Zone
CAT scale
"As Love's expands, the state of Texas is of continued importance for us," said Tom Love, founder and executive chairman of Love's. "Its many interstates and highways provide plenty of convenient locations for us to serve members of the community, travelers and professional drivers. Sulphur Springs is a great location to serve customers traveling through northeastern Texas along Interstate 30."