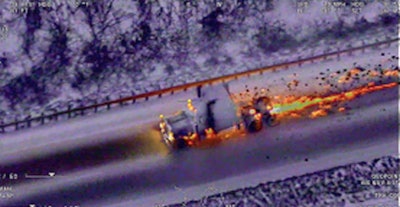 The sale of a venerable truck stop, the dangers of the driving life, regulatory change and an early season snowstorm were among the most read stories on Truckers News last month. The top 10 stories included:
10. This was a real head-shaker. Hard as it is to believe, a driver hit not one but two low-clearance bridges in Durham, North Carolina with the same truck on the same day.
9. Foul winter weather got an early start late last month. A major winter storm blew through much of Midwest during the long Thanksgiving holiday weekend making driving difficult. The Kansas National Guard mobilized nine of its Stranded Motorists Assistance Response Teams because of snow that arrived in record amounts in some locations.
8. Fire did more than $1.5 million in damage to a Minnesota trucking company as November drew to a close. Five fire companies fought the blaze that did heavy damage to Quade Trucking's service garage.
7. A crook stole a truck and then led police on a 100-mile-long high-speed chase on I-70 last month. But, in the end, the truck caught fire and the thief was easily caught when he ran into a barbed wire fence.
6. Thanks to nothing short of a medical miracle, a trucker who was stuck underwater for some two hours following a crash in Arkansas survived and is making a recovery.
5. Having a trucker hit two different low bridges with the same truck on the same day is one thing. It is something else entirely two have two different trucks wipe out the same piece of guardrail on the same day. But, it happened in Indiana early last month.
4. November proved to be a violent month for truckers. In fact, two drivers were involved in shooting incidences last month. One was in Alabama and the other in Texas.
3. Last month, the Federal Motor Carrier Safety Administration issued a clarification of rules governing the use of a truck for personal conveyance.
2. The driver of a FedEx truck struck a vehicle alongside Interstate 275 in Kentucky and then spent two hours dangling upside down in his truck as rescuers worked to free him.
1. The most read story on Truckers News in November was actually two stories, and both dealt with a popular mom and pop truck stop in Iowa. The Boondocks Truck Stop closed last month, went up on the auction block and was purchased by a small California trucking company.