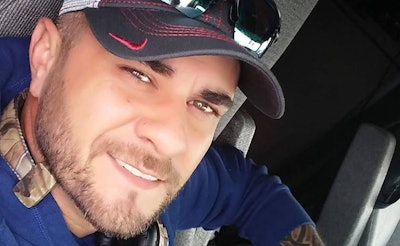 After responding to a call for help and administering CPR to a fellow driver, Hirschbach Motor Lines driver Richard Shearer of Haysville, Kansas, has been named a Highway Angel by the Truckload Carriers Association.
Shearer was at an unloading bay in March at Walmart in Mebane, North Carolina, when he heard a scream and ran to investigate. He found a trucker's wife screaming for help because her husband was unconscious and unresponsive on the ground. Shearer performed CPR until paramedics arrived. The man was revived but died a short time later.
"I worked on him as hard as I could," Shearer said "I went back to my truck, feeling defeated. It hurts whether you know the person or not; it's another human being."
Shearer is an Army veteran who served two tours overseas. Shearer feels he didn't do anything heroic on that day, but he hopes he can be an example to others to get involved when someone needs help.
"No matter what you can do, just do it," he said. "My hat is off to first responders who deal with this every day. They find a way to go home and live their lives. Put your phone down, stop recording, and do what you can to help. You have the chance to make a difference. I did what I could to help but the good Lord said it was his time."
TCA presented Shearer with a Highway Angel certificate, patch, lapel pin, and truck decals.