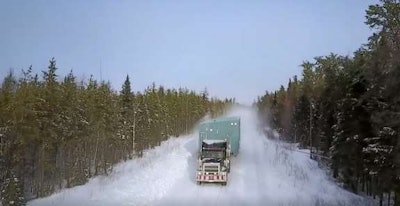 It was only a couple episodes ago that the folks on Ice Road Truckers complained about and were driving over roads made miserable by mild weather.
Scratch that.
In Thursday night's episode, all had to contend with problems caused by a blizzard that left behind between 3 and 6 feet of snow, and severe cold.
So, it was like life on the ice roads had returned to normal.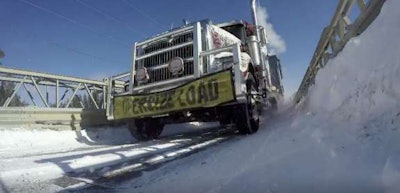 Lisa Kelly, Reno Ward & Mark Kohaykewych: Remembering Darrell at journey's end
Last week's episode ended with Lisa Kelly facing a tricky downhill run over a narrow bridge and back up an equally steep grade on the other side.
This week's episode opened with Kelly making it easily enough with a 40-ton pre-fab building on a flatbed, even joking, "That was scary. I think I closed my eyes. That was genuinely scary."
Kelly, and convoy mates Reno Ward (pulling a flatbed with parts for the building) and Mark Kohaykewych (driving the pilot truck), still had 120 miles to go to their destination of North Caribou Lake.
But, it wasn't long before the trio came to yet another long, steep hill.
"Oh, she's a beauty," said Kohaykewych, having driven to the top.
Kelly was next to make a run at it, but her effort was stopped short of the top by an icy ice road.
Coming from behind, Ward made it up the hill and pulled in front of Kelly's rig. With her truck slipping slowly slipping backward, Ward chained his truck to hers in an attempt to pull it the rest of the way up.
"Can we hurry?" said Kelly. "My truck is sliding backwards."
Ward successfully pulled Kelly the final bit, but not before the chain snapped and a few truck parts littered the roadway.
The three paused to remember the late Darrell Ward, and gave their horns a blast in his honor before making the final miles.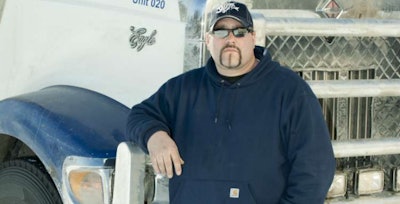 Todd Dewey: Slip slidin' away … almost
After sitting for three days as it snowed, Todd Dewey was on a trip to Shamattawa. While pounding his Mack over slick, bumpy and hilly roads, Dewey had an epiphany (and possibly the best line of the season thus far): "No I know why Art (Burke) cusses so much!"
Dewey did no small amount of cursing himself as he made his run over roads that had been plowed, but not wide.
"There's absolutely no room for error," Dewey said.
Then he found out the hard way.
Pushing up a hill, the ice got the better of Dewey and he had to back down and chain up.
"It's do or die," said Dewey as he made a second uphill run. Again, he was stopped short of the summit, and again he had to back down, sliding much of the way.
"Come on, one more time," said Dewey, cautioning that if he didn't make it this time, he'd be spending the night in the wilderness.
Backing up to get an even longer run and starting out in third gear, Dewey successfully pushed and cajoled his Mack up the hill to the top, proving the third time truly is the charm.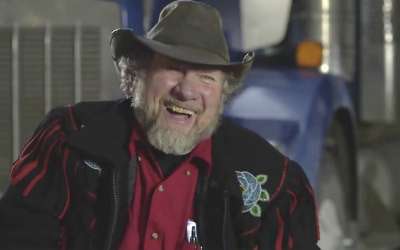 Alex Debogorski: His kindness almost does him in
Time and again, Alex Debogorski has proved he lives his faith … Even if it costs him precious driving time.
On a run to Little Grand Rapids, Debogorski happened upon a fellow trucker stopped by the side of the ice road. Turned out the trucker's brakes were locked.
Despite having to drop his load and "turn and burn" back to Winnipeg for another, Debogorski stopped to lend a hand. Six hours and no small amount of wrench work later, Debogorski got the other driver and himself back on the road.
His kindness cost him: Debogorski wound up having to make a late night lake crossing over uncertain ice.
"I'll give it a shot," Debogorski said with now small amount of resignation in his voice. "We're off and running."
He drove across the lake toward Little Grand Rapids with his door open and half in and out of the cab.
Off the ice and into the mall First Nation village, Debogorski said, "Looks like we made 'er," and then quickly unhitched the trailer and bobtailed it back to Winnipeg for another load.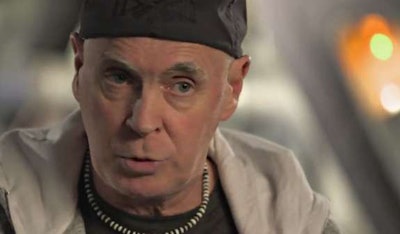 Art Burke: The long and winding lake crossing
Art Burke must think the universe works overtime just to confound his life on the ice roads.
Not only did he have to make the longest lake crossing in Ontario — 21 miles — on his trip to Sachigo Lake, he was making it after between 3 and 4 feet of heavy, new snow had fallen.
"That's a lot of weight on the lake," he observed.
But, his load of building supplies wouldn't deliver themselves, so with a few choice words the producers had to bleep out, Burke was on his way.
Driving just 10 mph, Burke felt compelled to state the obvious: "The more you're on the ice, the more chance you have of falling through."
It wasn't long before Burke's trip got even more harrowing: A fully-loaded flatbed was heading toward him from the opposite direction. Passing another truck on the frozen lake puts extra stress on the lake … and on Burke.
The two trucks passed without incident, leaving Burke to opine, "(It's) too nice a day to drown today."
After putting the lake crossing behind him, Burke unloaded and headed back to Winnipeg at night under a full moon.
For some inexplicable reason, the tone of the music and the camera work took a spooky turn and Burke talked about being on the lookout for Sasquatch or Bigfoot.
Ice Road Truckers airs Thursdays at 10 p.m. Eastern and 9 p.m. Central on the History Channel. Be sure to check local listings.