After nine weeks and thousands of miles on roads that went from bad and warm to worse and warmer, Season X of "Ice Road Truckers" comes to a close tonight. The reality show airs on the History Channel at 10 p.m. Eastern and 9 p.m. Central.
This milestone 10th season was rocked by the death of longtime star Darrell Ward, the victim of a light plane crash in August.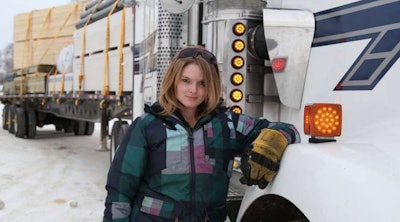 It was also marked by the introduction of a new cast member, 22-year-old rookie driver Steph Custance.
When last we saw our "IRT"friends:
Darrell Ward shared his truck with Mark Kohaykewych and they were joined in a four-truck convoy with Lisa Kelly, Todd Dewey and Steph Custance
Alex Debogorsky had a long and demanding trip to Sachigo Lake
Art Burke's truck gave up the ghost just as he reached Sachigo Lake
See our episode-by-episode coverage of "Ice Road Truckers" before tonight's season finale.
Episode I: First 'Ice Road Truckers' episode off to unseasonably mild start 
Episode II: New kid to hit the ice roads? More problems for the veterans 
Episode III: Lisa Kelly breaks an unbreakable ice road trucking rule 
Episode IV: Lisa's truck rebels again; Steph cries after lake crossing 
Episode V: Todd leads new driver Steph on 1st trip
Episode VI: Warm winter bedevils the truckers
Episode VII: One truck catches fire, another breaks a leaf spring 
Episode VIII: Todd & Art reach unhappy ice road milestones 
Episode IX: Rivals become allies in dangerous convoy; finale next week 
Episode X: Tonight's finale