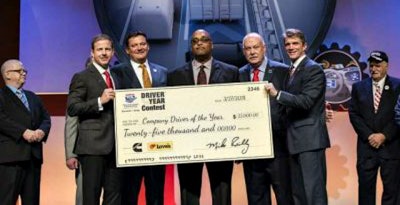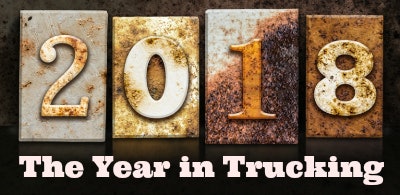 Looking back over any year in trucking, our focus is often drawn to spectacular events and sweeping issues that affect the nature of the industry. Regulatory change. Inspection and enforcement efforts. The business climate. Job numbers. Driver pay. These are among the things that shaped this year in our industry.
But, the merge from one year into another also provides an opportunity to consider all of the triumphs — and there were many — of individual truckers. Many were the men and women who were recognized for what they have accomplished over the course of their careers or how they responded in a moment of need.
As 2018 fades, we reflect on the accomplishments of a variety of individuals, winners all. Included are:
Stephen Richardson, who drives for Big G Express, was named Company Driver of the Year by the Truckload Carriers Association and Truckers News
Mordaunt "Platt" Brabner, a veteran of two branches of the service and a driver for TMC Transportation won Truckers News' 2018 Mike O'Connell Trucking's Top Rookie award
Frank Vieira, a local tanker driver from Ancaster, Ontario, Canada, won the 35th annual Goodyear Highway Hero Award
Arian Taylor, a Ballard Trucking driver from Nicholasville, Kentucky was Truckers Against Trafficking's 2018 Harriet Tubman award winner
Herschel Evans, a company driver for Holland, won the Commercial Vehicle Safety Alliance 2018 International Driver Excellence Award award.
Larry Berman, an Army veteran who drives for U.S. Xpress, won Belmor's 2018's "I Did My Duty… Now I Drive Heavy Duty" essay contest
Quinton Ward, who won this year's Transition Trucking: Driving For Excellence award
Don Logan, a FedEx Freight driver, was one of several winners of the Mike Russell Trucking Image Award
Bob Cordeiro was named Aprin Van Lines driver of the year
David Boyer, who drives for ABF Freight System was named the American Trucking Associations' driver of the year
Scott Woodrome, a FedEx Freight driver, won the Bendix Grand Champion title at the 2018 National Truck Driving Championship
John Haley, a driver for Oakley Transportation, was recognized by Trucker Buddy International
Susan Coffer, who drives for Landstar, won a new Kenworth T680 in her company's Deliver to Win Truck Giveaway
John Weston, a driver for Challenger Motor Freight of Cambridge, Ontario, Canada was named the Truckload Carrier Association's 2017 Highway Angel of the Year for comforting a fellow driver who died in a two-truck collision
Liberato Lupo, who drives for WTI Transport, won a new Kenworth T660 as part of his company's National Truck Driver Appreciation Week celebration
Eight drivers were recognized by the Truckload Carriers Association as Highway Angels
Victoria Andrade, a veteran UPS driver from Texas, was the grand prize winner in TA Petro's annual Road Warrior contest
Mandi Jo Pinheiro, an owner-operator from Idaho, won this year's Overdrive/Red Eye Radio Trucker Talent Search
David Zelsdorf, an owner-operator driving for Landstar won a 2018 Western Star 5700XE in the seventh Annual Landstar BCO All-Star Celebration
Eric Turner, Sr. of Ellenwood, Georgia won Best of Show honors with his 2015 Peterbilt 389 at the 36th Annual Shell ROTELLA SuperRigs competition
Victor Green, a driver with ABF Freight, Inc. was named a Highway Angel by the Truckload Carriers Association for helping a woman who was struggling to find her way to a family funeral
Tiffany Hanna, a driver and trainer at Prime, Inc., won a 2014 Volvo VNL670 in an essay contest staged by Women In Trucking
Catherine Querio was named C.R. England's Regional Driver of the Year
Greg Magsam, a driver for Contract Transport Services LLC of Green Bay, Wisconsin, has been named a Highway Angel by the Truckload Carriers Association for helping a family whose car caught fire
Carl Cormier, a tank truck driver for Groendyke Transport was named a Highway Angel by the Truckload Carriers Association for thwarting a highway suicide attempt
James Rogers, from Pevely, Missouri, received the keys to a fully updated 2015 Freightliner Cascadia this past weekend thanks to Progressive Commercial's Keys to Progress program
Rick McClerkin, an owner-operator from San Jose, California, won a Peterbilt Model 567 Heritage in the company's SuperFan contest
Danny Martin, ABF Freight truck driver, was recognized as a Highway Angel by the Truckload Carriers Association for helping a sheriff's deputy make an arrest
Drivers from across the country won their state's competitions that led to this year's American Trucking Associations' National Step Van & Truck Driving Championship
Jerry Miller, who drives for CFI, was named a Highway Angel by the Truckload Carriers Association for his role in saving the life of a fellow driver